Energy Star
is the international symbol for energy efficiency and an important consideration when building green and accessing government grants and incentive programs. Durabuilt is a proud volunteer partner of the
Energy Star
program and makes buying qualified windows and doors easy from the selection process, through to proof of purchase. Here's how it works:

1. Find Your Climate Zone
---
The Energy Star program divides the country into four climate zones based on annual average temperature. Zone 1 is the mildest and Zone 3 is the coldest.
Visit http://oee.nrcan.gc.ca/ to find your town's specific zone.
By installing energy efficient windows and doors in your home you can reduce energy costs by 7-12% or more*.
* Energy Star statistic based on controlled testing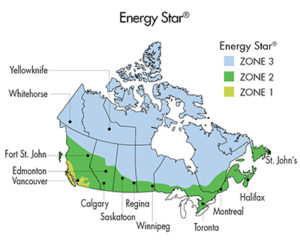 2. Choose Windows & Doors that Qualify for that Zone
---
Once you determine your qualifying zone, you must select your windows, doors and performance options to meet that zone's criteria. Low E with argon is a minimum requirement of the Energy Star program. Durabuilt windows can be configured to meet the most stringent Energy Star zones, especially our Casement Window Collections. To identify the qualifying zone of your windows:
a) Reference our Product Performance Charts
b) Visit http://oee.nrcan.gc.ca
c) Check your Durabuilt quote / order summary
d) Ask your Durabuilt Sales Consultant for more information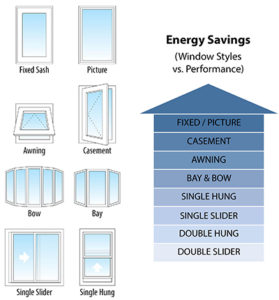 3. Retain Your Labels Upon Installation
As part of the new Energy Star program Durabuilt has implemented a labeling system that clearly summarizes your window's CSA and Energy Star information. This includes the zone for which the product qualifies – 1, 2, 3 – along with the relevant performance data including the U-Factor, Solar Heat Gain Coefficient and Energy Rating. It is important that you keep these labels for each product purchased as they can be used to qualify for government grants and incentives, as well as our warranty program.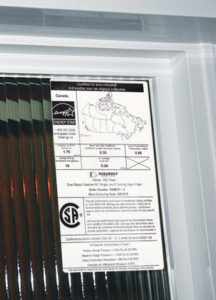 Energy Star Requirements for Windows